Deep Construction and Foundations
9th Rock Mechanics & Tunneling Day, WBI-Center, Weinheim, Germany, 13.06.20224
We hereby announce the 9th Rock Mechanics and Tunneling Day at the WBI-Center Weinheim, which will be organized by WBI GmbH, sponsored by the German Railway (DB Netz AG) and supported by the German Engineering Association (Arbeitskreis Bautechnik of the Württembergische Ingenieurverein).
It is an event of 1-day duration offering lectures on interesting issues of tunneling and underground projects in Germany and worldwide.
We are looking forward to receiving your registration via www.felsmechanik.eu.
Walter Wittke, Rock Mechanics Based on an Anisotropic Jointed Rock Model (AJRM)
This book focuses on the fundamentals of rock mechanics as a basis for the safe and economical design and construction of tunnels, dam foundations and slopes in jointed and anisotropic rock.
It is divided into four main parts:
Fundamentals and models,
Analysis and design methods
Exploration, testing and monitoring
Applications and case histories.
The rock mechanical models presented account for the influence of discontinuities on the stress-strain behavior and the permeability of jointed rock masses.
ISBN: 978-3-433-03079-0 EUR 149,-
To buy this book: Direct link to the Ernst & Sohn Verlag online shop or Amazon.de
WBI GmbH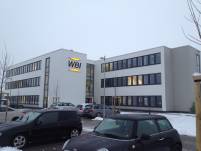 Im Technologiepark 3, 69469 Weinheim, Germany
Phone: +49 (0)6201- 2599-0
Fax: +49 (0)6201-2599-110
E-Mail: wbi@wbionline.de
We are also represented in Guadalajara (Mexico) and Santiago de Chile (Chile).

WBI-Forum Research and Practice